FORE!...WORD CONTINUED...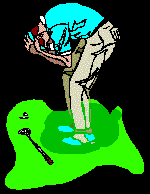 THE LOGIC OF FACING THE TARGET LINE


We line up our putts by facing the line. Why then do we insist on making the putt so difficult by standing at a right angle to it while trying to remember the "read" from a different perspective? The line never looks the same from this angle. You simply must trust the line you had read before you took your stance. Once you take another look from your stance and see a slightly different line, it is hard to fight off the tendency to use this conflicting information. This indecision results in a loss of confidence and a less than accurate stroke. Add to that...when you put two hands on the putter from this position, you bring in an impossible number of unnecessary mechanics and body parts just to get the ball on line... not to mention having to worry about pace. Just try pitching pennies with two hands from that position for example. Any wonder that most putts are missed from lack of confidence that any other reason?



THERE ARE NO MECHANICS TO WORRY ABOUT IN SIDESADDLE PUTTING


Just hit it where you're looking... that's all there is to it. Our mind and bodies already know how to do this.


When Sam Snead experienced a bout with the "YIPS", he first adopted the successful croquet style of putting. After winning a number of tournaments the USGA felt the technique was contrary to the "essence" of the game and promptly ruled it to be illegal to stand astride, on or directly behind your line of putt while on the putting surface.
Sam simply put his right foot to the left of the line and continued to face his target line. This, even more effective technique called "sidesaddle" today, enabled Sam to go on to a career total of 62 PGA wins... the record that still stands today.t
Not one person in the hundreds I have questioned about sidesaddle putting has come up with a "logical" reason for why they intend to continue with the conventional style after agreeing that facing the line is an easier and more accurate way to putt.



EVERYONE WHO BEGINS PLAYING GOLF WITH SIDESADDLE PUTTING NEVER SWITCHES TO CONVENTIONAL

When they try it, they are immediately struck by it's awkwardness and difficulty. On the other hand, when "conventional" putters try sidesaddle for the first time they are always impressed by it's accuracy right from the start... even though it also feels awkward at first.

In the following pages you will learn about the many other logical reasons for facing the target line. After a closer examination of this style you will have to agree that if we all had learned this way and saw someone putting conventionally, we would wonder why he was making such a simple part of the game so complex.

Golf is a difficult game from tee to green but anybody can putt BETTER than most professionals. I promise you... If you make an honest effort to adopt "sidesaddle" as your style, you will never again worry about your putting ability or get concerned with all the hype about the hundreds of gimmick putters out there. You can putt with the best using a 2X4 this way... I've done it!



IF YOU CAN PUT A BILLIARD BALL STRAIGHT INTO A POCKET WITH A POOL CUE YOU SHOULD BE PUTTING SIDESADDLE

Give it a chance. You will be able to get the ball on line right away but remember, you have to relearn pace because you are using your arm from the shoulder joint for the speed instead of your back and shoulders from the waist. It should be obvious that this doesn't take very long to master since this is the natural way to do everything else underhanded anyway.

The average golfer knows he wastes most of his strokes on the green, so he spends countless dollars on putters and countless more hours practicing his putting and is never quite sure if he's misreading or mis-hitting. It's hard to tell if putts miss because the stroke itself caused side spin, over spin or came up short from hitting off center. Everything you'll ever learn about reading greens is predicated upon striking the ball without any negative influences generated by the stroke.

The amount of hidden variables and inconsistencies in the conventional stance always leaves some doubts about the reasons for missing putts. When you can't diagnose a problem, it's hard to find the cure. This only serves to shatter confidence, limit progress, and make practicing ineffective.

Dave Pelz, world famous putting and short game wizard, author of many books on the subject and originator of the Dave Pelz/ESPN World Putting Championships proved the fallacy of the rule that "practice makes perfect". In an effort to improve his putting, Dave began an intensive practice schedule which included a 4 hour session on the putting green every single day... seven days a week for a FULL YEAR. The results were not as hoped. Dave claims he was a worse putter than he was before.

On a recent Golf Channel Academy show, Dave encouraged golfers to use a long putter to practice the pendulum "feel" from both sidesaddle and the other popular stances even if they intend to putt in a conventional manner with a standard length putter.

Only "perfect practice" makes perfect. I am convinced that the inconsistencies, variables and undetectable influences inherent in the conventional putting technique make "perfect practice" virtually impossible.

Even if your backstroke is off line with sidesaddle, the natural tendency of the shoulder joint is to return the point of takeaway all square like a pendulum with acceleration at impact and wants to continue on line during the follow-through.

The most graphic example of this can be seen if you take a ball with a stripe around it's middle... you know the drill... place it down with the stripe lined up with the target and try to stroke it so that the line doesn't wobble along the path. If you try this both ways, you will see how much easier it is facing the hole with a split grip. Two necessary things for accuracy are accomplished quite easily this way. First, the ball begins tracking earlier which helps it to stay on line. Secondly, you will strike the ball purely and without side spin so that it won't tend to work it's way off the intended path or "lip out" because it wasn't tracking properly.



That's why sidesaddlers know that missed putts are usually misread which takes most of the guesswork out of practice and makes time on the putting green more effective.


Incidentally, A doctor told me that more back problems stem from golfers practicing their putting than swinging on the practice tee. You could practice putting sidesaddle with a long putter for hours without back strain... but why not spend more of your time learning about reading greens... now that you can actually use that knowledge... and working on the really tough parts of the game.
e you realize h
Once you see how easy it is to get the ball on line, how your pace improves and how "repeatable" the stroke is... even under pressure... you will make a lot more birdies and rarely 3-putt. The reason is simple. When you see how easy the 3-5 foot "comebackers" are, you will quit lagging the longer ones. Stop settling for that "3 foot circle" and putt to make everything. The best advice to reduce 3 putts has always been..."Concentrate on 1 putting." You will be amazed at the number of really long putts you'll start making.


"Take Dead Aim" _Harvey Penick

Harvey Penick, probably the games most respected instructor, knew the advantage of tall split-grip putters when he announced that the USGA should require both hands to touch each other when putting.

How many of your "lags" are on line but come up short?

DON'T LET THIS HAPPEN TO YOU!
This old guy was just looking for a reason justify his old conventional putting method.
An e-mail I received 09/09/99
Karl...
I played a round yesterday & experienced the highs and lows of golf. I played by myself & got paired up with 3 recent retirees. One of these gentlemen felt the obligation to try to coach me at every aspect of the game. Granted I'm not Tiger Woods, but I didn't need the extensive hand holding either. On the front 9, I was cruising with my putting (your style). I either 2 putted or 1 putted, which in my book is pretty darn good. Unfortunately, this character kept harassing me about my putting style. It got to the point where he became pretty abusive. Needless to say I knuckled under & putted the conventional way. Well guess what ? The world of 3 putting returned. Afterwards I recanted this fact to him. He went further to say I needed to practice the conventional style & sidesaddle is for old %&#*@'s (Bleep) with something called the "yips".
I was polite & thanked the good lord I'll never have to play with this guy again.
Tell me why this style offends people ? I'm confused. I don't worry about anyone else's game, but my own.
Marc R. Weiss
Systems Consultant
Most people can't understand how others can blow their noses differently than they do.
~ Ivan Turgenev ~



IT IS NOT A MATTER OF "IF" BUT RATHER "WHEN" WILL FACING THE TARGET LINE BECOME THE "CONVENTIONAL" WAY TO PUTT.

I
I have given you a putting tip that will positively make you a far better putter... no matter how good you are now... and an indisputable argument for changing forever the way you approach this "game within a game". Don't bother trying to fool yourself by rationalizing or making up excuses for continuing to putt the same old way. The bitter truth is; You are more concerned about how you look than how well you putt. You could also sabotage yourself without even knowing it by NOT REALLY WANTING IT TO WORK so you won't have to put up with the flack you think you'll get from your playing partners.

I'm not a mind reader but I know what goes through the head of every golfer when he contemplates making the change and imagines himself pulling out a sidesaddle putter for the first time in real play: "What will they think if I don't putt well with this thing?" "I'm going to look foolish!" "If I miss some putts the old way, nobody will give it a second thought." "It's just safer to forget about sidesaddle. "I can always fall back on the traditionalist excuse that putting sidesaddle takes away from the essence of the game."

Sorry to bust that bubble, but every golfer playing today has equipment in their bag, uses a technique and/or takes advantage of a rule that is not traditional. If you really want to play the traditional game, why not start by letting your opponent know that he doesn't have to mark his ball if it is in your putting line for example. Don't be a hypocrite and let the USGA decide what the essence of the game should be. Hey, just hang there. If you really hate this idea, you're bound to find some reason to dismiss it. In fact, one of the better ways golfers have found to rationalize the conventional putting method is to ask another golfer what he thinks about sidesaddle. Just make sure you don't tell him about this site.

It's all a rather sad commentary on priorities, but nonetheless true for most. On the flip side, it's a great opportunity for you to gain a tremendous edge on everybody else. And now that you have an arsenal of valid responses for those "would be traditionalists" who might question the integrity of this technique at first... you will never lose the debate. Besides, you only have to put up with it for a hole or two. Small price to pay considering the rewards. The only thing that could hold you back now is your unwillingness to break out of mindless conformity. That would be unfortunate because I know if you can overcome your natural resistance to this "currently" unusual technique, you will enjoy the game like never before and look forward to all the "putting clinics" you get put on. (And believe me... every member of your group can't wait to get their hands on it... even if they're too timid to ask.

Try some "gamesmanship". If you are playing for money or just enjoy competition, take the opportunity to "school" your opponents on sidesaddle early in the round... on the practice green, before your tee time... if possible. They'll usually focus on the integrity of their own putting stroke and/or try so hard to "out putt" you that they'll have trouble making anything all day.

THERE'S A PUTTING REVOLUTION GOING ON RIGHT NOW. I AM AMAZED AT THE NUMBER OF GOLFERS WHO HAVE CONTACTED ME SINCE THIS PAGE WENT UP WHO ALREADY PUTT FACING THE TARGET LINE. EVERY ONE OF THEM CONSIDERS PUTTING THE BEST PART OF THEIR GAME. IF YOU ARE READY TO BE ONE OF THE TREND-SETTERS AND START "PUTTING SMART"... BOOKMARK THIS SITE NOW. CONTINUE TO BROWSE THE FOLLOWING PAGES CAREFULLY THEN GO OUT AND TRY IT WITH YOUR OWN PUTTER... ON SHORT PUTTS ONLY... BEFORE YOU CHANGE TO ONE DESIGNED FOR PROPER SIDESADDLE STYLE.

There is another tried and tested technique that was rarely used until Tiger Woods reintroduced it. Chipping with a fairway wood from off the green is effective and... now commonplace since Tiger first did it on TV. Are you going to wait until you see someone win a tournament putting sidesaddle on TV? If you're using the technique when that happens, you will have already solved your putting problems with it and will look like a genius.




making anything all day.