CAN JUST CHANGING PUTTERS REALLY...

ELIMINATE:




YIPS ~ PUSH ~ PULL ~ STUBS ~ SCUFFS ~ MISALIGNMENT ~ DECELERATION ~ SIDE SPIN ~ OFF CENTER HITS...?

CONTROL:




FEAR ~ TENSION ~ APPREHENSION...?

IMPROVE:




FOCUS ~ CONCENTRATION ~ CONFIDENCE...?





NO...!!! YOU HAVE TO CHANGE YOUR STANCE TOO.




WE ALREADY KNOW THE EASIEST AND MOST NATURAL WAY TO ROLL THE BALL INTO THE HOLE.

Try this experiment...next time you're on the putting green, hand somebody a golf ball and ask them to roll it toward one of the holes. Almost certainly, they will line themselves up ERECT and FACING THE HOLE with the ball in their fingers... palm facing forward. After little or no agonizing over the break or speed of the green and with a routine kind of awareness... they will swing their arm back naturally from the shoulder without breaking the elbow and accelerate forward with a smooth, rhythmic and natural pendulum motion that would be the envy of even the best of putters. You will find the results are rather remarkable too... the line and pace are usually better than putting... even on the first try.



THIS IS THE LOGICAL AND MOST NATURAL WAY OUR EYES, BRAINS AND MUSCLES HAVE BEEN DESIGNED TO ACCOMPLISH THIS KIND OF TASK.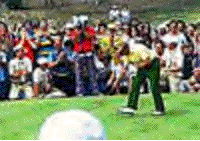 The "Slammer" found the secret.