BUT EVERBODY PUTTS THIS WAY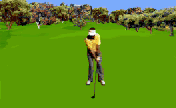 THIS MAKES SENSE FOR POWER AND LOFT


In order to use all the power your body has to deliver, you must stand at a right angle to the target line. This allows you to coil like a spring at the top of the back swing. When you release the spring properly a kinetic chain of events take place starting at the feet through the legs, torso, shoulders, arms and wrists which results in the desired club head speed for the required distance and loft.



THIS IS AS DIFFERENT A GAME FROM PUTTING AS THE DISCUS IS FROM DARTS!!




S

TOO MANY THINGS TO DEAL WITH


Consider this... Do you think you're strong enough to toss a golf ball underhand across even the biggest green you ever saw? If so would you face the direction you are tossing and use one hand or would stand at a right angle and swing across your body with the ball in both hands? It's only logical... facing the hole and tossing or rolling a ball underhand gives you much better control over both distance and direction... like pitching pennies. Although that just about says it all, let's examine it some more so you get a better idea of what that natural method is telling us.

First of all, you line up a putt standing and facing the hole. When you putt you stand at a right angle to that line while bent over... a totally different perspective.
If that isn't tough enough, with two hands on the putter (each wanting to go in different directions), you must take it back low and straight the proper distance along that line while keeping the putter face at 9O%. Then you must make the forward stroke low and along that same line without losing that 9O%.

What makes this so difficult from this position is that when you take the club back, the left side (if you're right handed) has to reach back slightly to catch up in order not to go inside the line resulting in a "push". On the stroke itself, the right side has to reach to catch up in order to not go inside again resulting in a "pull". In other words, from a conventional putting stance, the natural tendency is to swing the putter in an arc around your body. Since we are subconsciously aware of this we want to break our wrists ("breaking down") to compensate.

The only way to eliminate this arc while standing at a right angle to the line is if you bend over 9O% at the waist where your chest is parallel to the ground. You will need to cut your putter shaft down to about a foot though.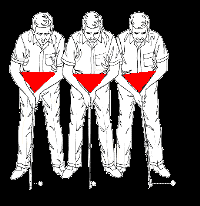 Even if you master the perfect pendulum swing holding the celebrated "V" made with the arms and shoulders (nobody ever has!), trying to feel the pace with your back and shoulders is yet another challenge.

A batter in baseball, just like golf, must stand and grip the bat in such a way that will enable him to utilize his body for maximum power when that's his objective. On the other hand, when he wants to merely place the ball a particular distance in a certain direction, he/she...





splits his hands and faces the target for better control over both power and accuracy.


The objective is exactly the same in golf... in baseball it's called a "BUNT". In golf it's called a "PUTT".