A STEP IN THE RIGHT DIRECTION
TRY IT THIS WAY WITH YOUR PUTTER ON SHORT ONES FIRST
THIS IS TOO EASY...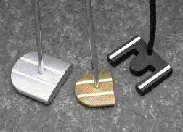 LOOK FOR CENTER SHAFTING AND GOOD HEAD DEPTH ON A LONG SPLIT-GRIP PUTTER TO TRY AT YOUR PRO SHOP
~~~~~~~~~~~~~~~~~~~~~~~~~~~~~~~~~~~~~~~~~~~~~~~~~~~~~~~~~~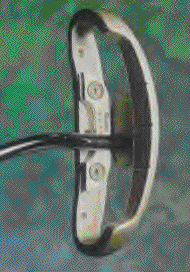 NOT ENOUGH HEAD DEPTH ON THIS ONE




ME AND THE MAYOR


In the summer of '96, after I had sold about 5O of my putters to some locals and other club members who urged me to get this thing on the market.

I contacted Rocky Thompson... the celebrated senior pro of the Killer Bee fame and mayor of Toco Texas for some advice. At that time, Rocky was having troubles with his putting. I sent him the flyer I had just done which had photos of the putter and it's proper use. I asked for his opinion and that I would send him one to try if he wanted. The information included the importance of the depth of the head with a "LONG YELLOW LINE" for alignment. (The head of mine is as deep as the USGA allows... no deeper than the distance from the face's heel to toe.) And, of course, it is tall and split-griped.

I even had visions of him coming out with my putter to compliment his extra long shafted Killer Bee driver and woods..... I GOT NO RESPONSE.

This is maybe just a coincidence but some months later I was watching ESPN and saw an infomercial for his new BeeLine Putter.

Rocky's putting has improved dramatically since he started using his BeeLine.

I'm sure glad he missed the point somewhat though. If he had designed and shafted it like mine... as deep from front to back as heel to toe with the shaft coming out from the dead center instead of up near the face and then put another face on the other side for "lefties" like me and then faced the hole with it... well I guess he would have beat me to it.