A NEW BEGINNING IN SIN CITY...


LAS VEGAS REVIEW JOURNAL
Tuesday, September 16, 1996
By John Gilbert
View Staff Writer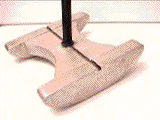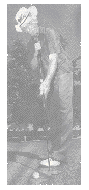 Las Vegas Review Journal staff photo



UNUSUAL PUTTER GETS THE JOB DONE

By itself it looks strange enough.
But when it's being used it looks even stranger.

Karl Higham's creation is the COMFORTZONE putter - a 1O degree, long-shafted club with 4 1/2 inch club head. It's a sidesaddle throwback to the days when people like Sam Snead and Bob Duden sank putts between their legs with a deadly croquet-style stroke.

Snead putted so well they outlawed it. This is basically the same thing except you are standing alongside the ball. (Actually it's a lot easier since you have a one arm, unrestricted back swing that is natural at the shoulder unlike croquet-style). It's really more of a concept than a golf club.

Higham, who lives in the east end of the valley, putted croquet-style in the 195O's and remembered the concept when stumbled across an idea on his computer.
"I was fooling around on the computer and I came up with this thing that sort of looked like a catamaran without a mast." Higham said. "I stuck an old driver shaft in it, went up to Craig Ranch (Golf Course) and right away it worked."
It not only works, it sells.

"I've made a few adjustments (from the prototype)," the 6O-year-old said. "This thing really attracts attention. In my first six trips to Craig Ranch, I had orders to make five of them." He said. "Maybe I'm on to something here."

The putter is used with the player facing the hole as if he or she was preparing to roll a bowling ball. The split-grip for a right-handed is attained by holding the top of the club with the left hand and the middle of the club with the right hand while facing the hole.

The club is swung back and forth as if the player was tossing the ball underhand at the hole. Higham, who said the specifications of the club and the way it is used are in accordance with the United States Golf Association's regulations, went into business and over the last month has produced 75 putters with materials he obtains right here in Las Vegas. He began by producing 3O putters for volunteer demonstrators.

"I required that they give me a deposit and I never had one returned." Said Higham, who now charges $15O for the putter with a free lesson.

Higham does offer a half price deal. He's allowing interested customers to demo models for $1OO and will return $25 upon completing a survey form.
Higham and John Ramsey, Spanish Trails Country Club's Professional, are planning to offer a one-day, six-hour putting school for $15O that includes a ComfortZone putter.

"It will save a lot of people who have the "yips" --and there are a lot of people who have them" said Ramsey, a former head pro at both the Sahara and Tropicana country clubs. "I've been putting this way for four or five years and it's really very natural. I think you will start seeing this thing used by pros, especially on the Senior (PGA) Tour."

Both Higham and Ramsey agree there are always going to be golfers who wont like the idea of abandoning the traditional style of putting.

"Traditionalists out there will say something like only a coward would putt like this." Higham said. "It's an ego thing. Some people will think it's a crutch."

Higham belongs to a foursome that plays regularly at Boulder City Municipal Golf Course. He was an 18 handicapper and the groups worse putter before he went to his newly developed ComfortZone.

He lowered hid handicap to 15 in just the first month with his new putter, but there is still one player who is still beating Higham.

"The problem is he's using one of my putters too." Higham said. "I created a monster and now I'm getting beat with my own weapon."

"I maybe sounds like a lot of hype." Higham said. "The big difference is... this system works."

"They may laugh at you on the first couple of holes, but they'll be crying on the 18th while they're reaching for their wallets."

I have heard many stories of successes from new "sidesaddlers" using my putter, but this one is my favorite: The very morning this article came out, I got a call from this guy who was about to play a four man scramble tournament put on by his company that same morning. I rushed to the course with a putter and gave him a really quick lesson just before his tee time. That same evening he called me. He was ecstatic. They had used his putt on ALL 18 HOLES.