AND

SIDESADDLE PUTTERS


NOTE: IT IS UNLIKELY YOU WILL FIND "SIDESADDLE" PUTTERS IN RETAIL STORES OR PRO SHOPS AS YET!

JUST IN CASE YOU'RE NOT READY TO PUTT SIDEADDLE... ALL OF THE PUTTERS DISPLAYED AT THIS SITE ARE ALSO SUPERIOR TO OTHER LONG SPLIT-GRIP MODELS ON THE MARKET... SHOULD YOU DECIDE TO PUTT WITH A CONVENTIONAL STANCE.



ALL PUTTERS CARRY A 3O DAY SATISFACTION GUARANTEE

(Putter head colors may vary.)






Before you continue or begin your long putter adventure
I highly recommend this new book by Chip Heyl and Glenn Apple with a forword by CBS golf commentator, Ryder Cup player and long putter advocate David Feherty
Leaning Pine Publishing announces the most innovative putting manual of the 1990s! The perfect gift for the golfer:
The Long View of Improved Putting
The Long View of Improved Putting
is for every golfer who wants to improve their putting. All golfers with back problems, yips, or even inconsistent putting should read it.
The long putter has proven to be a valuable alternative to poor putting with the short putter. This text illustrates that very good players have gone to the long putter rather than suffering through prolonged slumps where their putting adversely affects the rest of their game.
Whether as a temporary measure, or permanent fix for putting problems, every serious golfer should know how the long putter can help their game become better and more consistent...
This reference will insure emmediate success from either the sidesaddle or conventional stance.
Includes a section devoted to sidesaddle techniques
$24.95 + $4.00 S&H
Click below to order by secure

Or call TOLL FREE to order a personalized copy signed by the author using a credit card or check by phone.
1-877-PUTT GURU
1-877-788-8487
OR GET A FREE COPY BY ORDERING ANY
NATURAL STONE PUTTER

Natural Stone Putters
The biggest sweetspot and the most solid putting feel in golf.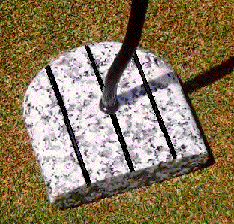 The TOMBSTONE
The "Stand Alone" feature of the TOMBSTONE allows you to adjust the face of the putter exactly down the target line from well behind the ball and/or the cup before you take your stance and grip. Using this feature means that both your setup and putter face will always be perfectly aligned before you make the stroke. All you need to concentrate on is the pace of the putt. Even more reliable than having a caddy line you up. (There's a popular, conventional putter on the market with only this one feature that sells for over a hundred bucks.)
The incredible beauty, feel, ball reaction and consistency of natural stone comes from it's dense crystalline structure. The effective hitting area covers the entire length of the putter face. Off center hits have no perceivable effect on ball reaction. The mass also gives the head a lot of heft which helps keep the pendulum stroke in line with the sidesaddle technique.

Combining this amazing material with a perfectly designed putter using the most accurate technique plus the "Stand Alone" alignment feature makes for a putting system that is "Pure Magic". What's more is that although you could spend up to $5OO for a conventional natural stone head putter and nearly $2OO for a high end sidesaddle putter and over $13O for a "Stand Alone" feature, you have it all with the TOMBSTONE at only:



$6$99.95 + $9.5O P&H

Includes free, inscribed copy of

The Long View of Improved Putting

A $30.00 Value

$5.OO ($94.95) PAY WITH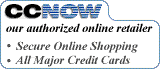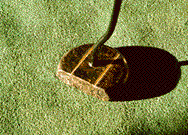 The HEADSTONE

This natural stone sidesaddle putter is a great all around performer. Somewhat lighter but still has the heft for proper technique. Learning pace is also a little easier. I recommend this style for average to slow greens and for those who might want to experiment with a conventional tall putter technique.



$99.95 + $9.5O P&H

Includes free, inscribed copy of

The Long View of Improved Putting

A $30.00 Value
$5.OO ($94.95) PAY WITH