Record 31
Name: Paul T. Wilson
Website:
Referred by: Just Surfed On In
From: Mich.
Time: 1999-03-05 02:00:03
Comments: Hey Karl! Down to the dome today. Practiced putting for a half hour so that the rest of my clubs could warm up before hitting. "Puttered" around for about 15 minutes (first putt, from 25 feet, was 2" from the hole) just working on length. Then decided to do a test -- not comparing methods, since I can't persuade myself to go back to the old style (except for a few gimmes that I just reach out for) of how close I could come to the hole on a series of balls. Here are the results: 18 balls from 27-24 feet (I put them all in a line about 6-8 inches apart and putted them all at the same hole.) 1 in the cup 10 within 2 feet (didn't bother counting 1 foot) 14 within 3 feet (i.e., 4 + 10) no 3 putts (sank all 17) 18 balls scattered randomly from 10-14 feet from another hole 4 in the cup 11 within 2 feet 14 within 3 feet no 3 putts (sank all 14) I would have tried from a greater distance but there were several other guys there so I was limited to 2 holes. In any case, these are certainly the kinds of results I'm looking for in my putting. Right now, for me, it really does seem that side saddle makes the most difference in that 5-6 foot range. I've reached the point where I'm surprised if the ball doesn't go in -- which is why I've taken to putting for distance; If I can come close to that 5-6 foot range, then I should be losing few strokes to par on the green -- and maybe even gaining some. When the weather gets warmer, I'm really looking forward to working on my 150 yards and in game to complement what I anticipate will be gains in putting.
All the best! Paul -- Paul T. WilsonProf of Reading

Name: don roberts
Website: Real Golf, sets that make sense
Referred by: From a Friend
From: Cypress, Texas
Time: 1999-02-25 20:21:20
Comments: hi karl. thanks for your call this morning. i've spent a great deal of time reviewing your website. In short... you're making entirely too much sense. as you know, www.realgolfclubs.com faces a similar (uphill) struggle - convincing Real Golfers that they don't ask how, but how many. the object of the game is to get the ball in the hole... not to out-drive your buddies. our sets are designed to help folks play their own game to the green. side-saddle putting may well get them off with a smile on their face. Real Putters. i like that.



Name: Grant Hartnell
Website:
Referred by: Just Surfed On In
From: Centralia, IL
Time: 1999-02-16 16:54:00
Comments: I started putting sidesaddle on my own about a year ago and then read about Sam Snead. I am using a putter I received for getting a "hole in one." I like the feel because the head is quite heavy. I've been playing for about a year and a half and am not afraid to go up against anyone with a putter.
Grant

Name: Rick Rhodes
Website:
Referred by: Just Surfed On In
From: Seattle
Time: 1998-11-30 04:15:25
Comments: I started putting this way 2 weeks ago and before I had seen your page. I had already decided that sidesaddle was superior so it was great to see your information. Thanks for the good work.Rick Rhodes



Record 17
Name: Steve Wagner
Website:
Referred by: NewsGroups
From:
Time: 1998-11-06 15:58:48
Comments: Karl, I've been looking at your site, it looks GREAT. I'm a clubmaker, and am going to go look through my 'Odds and ends" box, see what I've got to make up one with. (Thinks that maybe that old "FLOP" mallet with a different shaft may be an idea.) Love to hear more, I'm going to fill out your forms later, just wanted to get this off while I was thinking about it.
Thank You, Steve Wagner



Name: Larry Miller
Website: PoGo's Place for Original Golf Instruction
Referred by: Geocities
From:
Time: 1998-10-30 12:15:46
Comments: . Karl, I endorse your idea and your philosophy, Karl ... it's similar to my own. Unfortunately, most golfers only think they want to score better when all they really want to do is hit the ball further. There is always great value and nearly instant reward in improving putting skills. It may be the "littlest" part of the game, but no other influences scoring so drastically. Being such a traditional game played by staunch traditionalists, new styles are slow to catch on. While I don't advocate fixing something that "ain't broke", side saddle putting may be just the cure for chance putting ills. -- Larry Miller (PoGo)





Name: Bill Buchanan
Website:
Referred by: Just Surfed On In
From: Fort Rucker, AL
Time: 1998-09-26 17:25:23
Comments: When I first started playing golf back in 1982, I would sometimes use the sidestraddle method and it worked really well. I was then told by someone on the course that I played that sidestraddle was illegal. I never researched to find out if in fact it is illegal, but I continued to practice putting sidestraddle. I would putt the conventional way during golf games, but never with the consistency and accuracy as with the sidestraddle method. I have fallen into the "norm" now and use the conventional method, but am seriously thinking of going back to the sidestraddle method.



Testamonials for the $170+ Wonder Putter from Down Under as seen on TV before the Magic Twanger made it's debut!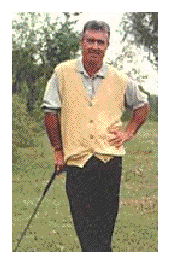 "I've never seen anything easier to use..."
Former PGA Tour Pro Marty Fleckman is a believer in the Wonder Putter. His awards include the Texas Amateur Championship, three College Team Championships, an NCAA individual Championship, member of the U.S. Walker Cup Team, competitor in the US Open, winner of his first PGA event (one of only four players to do so), and a member of the Texas Golf Hall of Fame. Today Marty conducts corporate and charitable golf clinics and provides private instruction to golfers of all levels.

This is what Marty thinks of the Wonder Putter.

This is truly a remarkable putter. You can take your natural instincts and normal ability and implement this easy technique with the Wonder Putter.

It is so easy to release the putter with my right arm. I have no conflict with my left and my right arm. My left hand is holding the putter and I am swinging it with my right arm. My right arm is swinging in a very natural way. My arms are moving conducive to my natural instincts.

It's impossible to miss because you have no conflict . Because you are not trying to pull with the left or push with the right there is only one way to release the putter and that is the natural instinct of how your arm flows and swings to your side.

What were doing with the Wonder Putter is we're putting conducive to our natural instincts and when you do that you eliminate variables.

I've never seen anything easier to use than the Wonder from Down Under. And I mean to tell you, it's just so easy to line the putt up and set the putter down and aim it and just trust the stroke because it is just so natural. You are letting your arms swing conducive to how you naturally walk so, it is the most natural way to aim and release the putter in the direction that you are trying to make the putt to go. I tell you what, it's the wonder from down under.
"I'll tell you one thing, this is one of the easiest putters I think that you'll ever use.

Whether you're an amatuer or a professionsal, it just serves as a natural extension of your arm." -Joy Levy

"With the Wonder from Down Under, what I noticed was the natural underhand action that actually propels the ball towards the hole. It's almost like picking the ball up and actually rolling it towards the hole." -Larry Johnson

"This new Wonder Putter has really caused quite a stir with all of our members. They really love it! The only thing I don't like about it, it only takes about five minutes to learn to use it , that really kinda cuts into our lesson time." -Glenn Lee, Golf Pro - The Hills Country Club

"The Wonder Putter is something from down under that I think that all of us from over here are really going to love." -Kevin Messhiack

"A few words to me fellow yipers. I've been one for 25 years. I've tried everything, I've done everyrthing. If this thing doesn't do it, fellows, nothing will." -John Hirsch

"I love it! I've never made a putt like that before." -Tammy Miller

"I've been playing golf for over 40 years and I have bought a lot of putters. But this is absolutely the best putter that I have ever had - ever." -Ken Hundley

"The wonderputter is a great putter. It has a wonderful feel. I've putted with the same putter for about 25 years and this is easy to line up, it is very comfortable to set up too and it just has a real good feel." -Sally Sykes

"The Wonderputter has taken 6 strokes off my game and Marty Fleckman's video, 'How to Stop 3 Putting' is definately worth the price of the putter alone." -Mark Bronson

"The hardest putt in the world to make is a three footer on 18 for all the marbles . Unless you've got one of these babies." -Bob Blazek

"My wife and I were playing in a tournament called the Double Trouble and we were on the 8th green and we had a chance to win this tournament, if I could make a little 16 inch down hill slider. And if we have had the wonder from down under, I can assure you I could have lined that thing up straight on to the hole and there was no way I could have missed that put. " -Don Shriver

"This is the best putter I have ever used." -Howard Andrews

"I get on the hole and I just know I'm either going to one putt or two putt. This wonder putter is the best thing that has ever happened to my game." -Tammy Miller

"I've played with a lot of clubs and have learned how to play with a lot of different clubs, and this is the easiest to learn that I have used." -Aggie Couch

"I have problems with my regular putter with my peripheral vision, looking at the hole but with this putter, I am looking straight at the hole and when I putt I can putt it right in the hole." -Joe Giardina

"I watched my husband 1-putt the first three holes. Well, I couldn't have that, so now I'm a proud owner of a 'WONDER FROM DOWN UNDER." It's a terrific putter." -Patty Pearce

"I think in time to come that this putter will help revolutionize putting." -Bill Pearce